If you are a Ubuntu user, you may know that Ubuntu doesn't release the first Beta build of the in-development version. While this is entirely true, it's kind of strange to understand the Canonical's decision because anyway, Beta 1 does make into the officially supported flavors. The upcoming Ubuntu 18.04 LTS, dubbed as Bionic Beaver development, is at full speed. Its first Beta build is now released to the supported flavors, including Ubuntu Budgie, Kubuntu, Xubuntu, Ubuntu MATE, and Ubuntu Kylin.
Looking at the Ubuntu 18.04 LTS development schedule, the original Bionic Beaver straight from Ubuntu is supposed to land on April 5th, 2018, which is the second Beta release. It is typical for Canonical to release Final Beta to the public. Here is the detailed schedule of Ubuntu 18.04 LTS development.
| Event | Date |
| --- | --- |
| Toolchain Uploaded | October 26th, 2017 |
| Feature Definition Freeze | November 30th, 2017 |
| Alpha 1 Build Release | January 11th, 2018 |
| Alpha 2 Build Release | February 1st, 2018 |
| Feature Freeze | March 1st, 2018 |
| Beta 1 Build Release | March 8th, 2018 |
| User Interface Freeze | March 22th, 2018 |
| Documentation String Freeze | March 29th, 2018 |
| Final Beta Build Release | April 5th, 2018 |
| Linux Kernel Version Freeze | April 12th, 2018 |
| Final Release Candidate | April 19th, 2018 |
| Ubuntu 18.04 Release | April 26th, 2018 |
All the official Ubuntu flavors will have features carried from the base Ubuntu 18.04 LTS, but we will see new features specifically crafted for their homegrown builds. All the flavors will feature Linux Kernel 4.15 and the new "Minimal Installation" option. In this new option, only the OS and its utilities, its themes, and Firefox are installed. All the other applications such as office suite, email client, video player, audio manager, etc. are not installed, making it super-light, and you have a chance only to install the apps which you want.
Let's take a brief look at each of the official Ubuntu flavors. Note that Beta builds are not meant to be used on production machines or for use as a daily driver. These builds are pre-development builds that may be broken, unstable, and crazy things can happen, such as sky can fall on your head. You have been warned.
Ubuntu Budgie 18.04 LTS
The gorgeous looking Ubuntu Budgie 18.04 is getting some seriously great features. The most significant feature is the addition of several desktop applets, which sounds exciting and fun!
Quick Note, DropBy, Showtime, Clockworks, CountDown, Keyboard Autoswitch, Wallpaper Switcher, and Workspace Overview are few of the coolest ones I noticed. Check out what's new in Ubuntu 18.04 LTS for complete details.
Apart from desktop applets, Ubuntu Budgie 18.04 LTS will provide support for OpenVPN connections via the network-manager-applet, will be able to play MP3 files out of the box, including enhanced keyboard shortcuts, and support for color emoji for GNOME Characters.
Ubuntu Budgie 18.04 LTS will also sport a new exciting GTK+ theme by default called Pocillo. It includes visually appealing features such as Dynamic panel coloring, Ripple effect buttons, and Dark, Light, and Standard theme variants.
Download Ubuntu Budgie 18.04 LTS Beta 1
Kubuntu 18.04
Kubuntu is based on KDE desktop, and 18.04 increment will feature the updated next-generation Plasma 5 desktop.
Apart from that, the team also announced the change in the default media player from Dragonplayer to VLC. KTorrent is updated to the Qt5/KF5 version 5.1. Cantata Qt5 music player replaces the unmaintained KDE4 based Amarok as default for this beta.
Also, Telepathy instant messaging client is axed from the new build as the app is no longer maintained.
Download Kubuntu 18.04 Beta 1
Xubuntu 18.04
Xubuntu 18.04 will see an updated Greybird GTK theme, which has three styles, a new dark theme, smaller switches, and improved scales. Also included are updated panel plugins PulseAudio and Status Notifier. Since Xubuntu is based on Xfce desktop, they decided to swap out a few pieces of GNOME with corresponding bits from MATE. Hence, some default applications are changed. Document Viewer is changed from Evince to Atril, Archive Manager will be Engrampa instead of File Roller, and the GNOME calculator will be replaced with the MATE calculator.
Download Xubuntu 18.04 Beta 1
Ubuntu MATE 18.04
The new build will sport MATE Desktop 1.20 and supports HiDPI displays with dynamic detection and scaling. And not to forget the emoji input support by default setting. It also lets you toggle HiDPI modes between auto detection, regular scaling, and forced scaling. Marco now supports DRI3, and as a result, frame rates in games are significantly better.
Ubuntu MATE 18.04 will use Indicators by default in all layouts.  Another major update is the patched version of Brisk Menu that is carried from the Solus project! It will have this new dash launcher.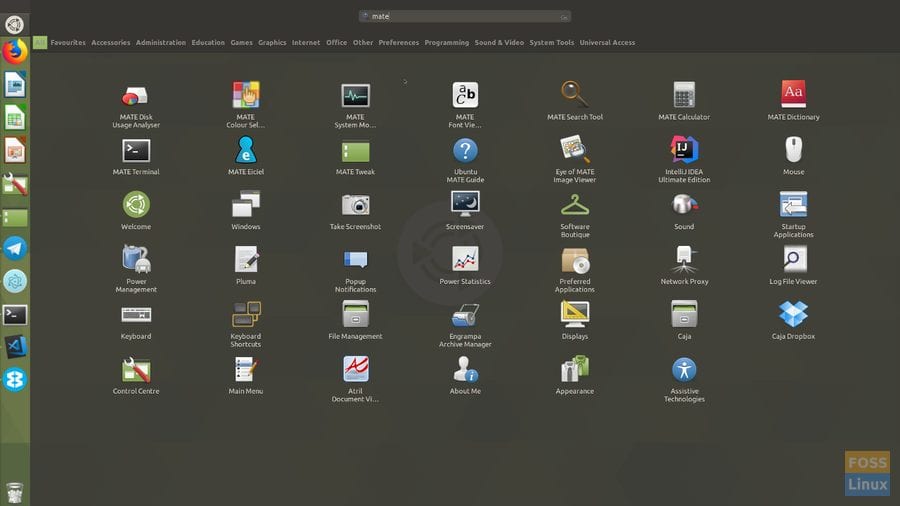 Download Ubuntu MATE 18.04
Exciting, isn't it? Stay tuned for more updates. Do you use any of the above Ubuntu flavors? Let us know in the comments below.