One of the best applications from the Open Source world for video editing purpose 'OpenShot' video editor is now bumped to version 2.2 with exciting new features and performance improvements. Most importantly this release adds 4K video editing support!
New Features in OpenShot Video Editor 2.2
1. 5K, 4K Video Editing Support
With OpenShot 2.2, it is now possible to import 5K and 4K videos along with existing 2.5K and Full HD videos. Even adding huge images to the timeline won't slow down the PC.
2. Performance
The main focus in developing 2.2 build was performance. A new caching engine was built from scratch and it now supports both memory and disk back-ends. This can be configured in the OpenShot's preferences under 'Cache' section.  According to the developer, it's now possible to open huge projects without problems and is up to 10 times faster than before!
3. Keyframe Enhancements
Keyframes in OpenShot 2.2 now includes support for CSS syntax. This means you can now set percentage-based approach to setting the curve handles. This is extremely useful and much better than the previously hard-coded values. Additionally, 28 curve presets have been added for common things like ease-in/out, bounce, etc… Other improvements in Keyframes include better undo/redo support when dragging property values in the property editor, rendering color keyframes on the timeline, and improved frame detection when using the property editor.
4. Improved Stability
The new version is much more stable than predecessor. Several bugs have been fixed related to seeking, missing frame detection, and AVPacket scope, which results in a much more stable engine, especially on slower systems.
5. Better Compatibility
Compatibility is improved for Linux AppImage and OS X (10.9+) App Bundles.
6. New Title Templates
This one is a great handy feature for film makers! A new title templates is now added in OpenShot 2.2 Things such as Film Ratings, TV Ratings (small corner rating), and more can now be easily added to any video.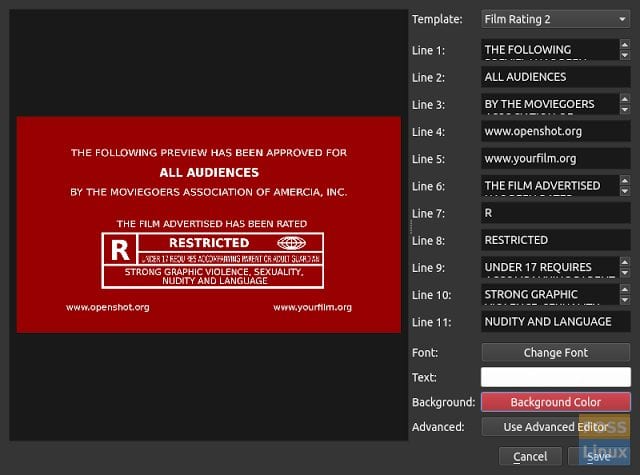 Apart from the above there were several minor bug fixes. OpenShot is 100% free software for Linux and readily packaged in AppImage format, which means it's like portable programs in Windows. You can simply download and run it right away – no need to install!
Download OpenShot from here.